News & Updates

South Africa
January 23, 2017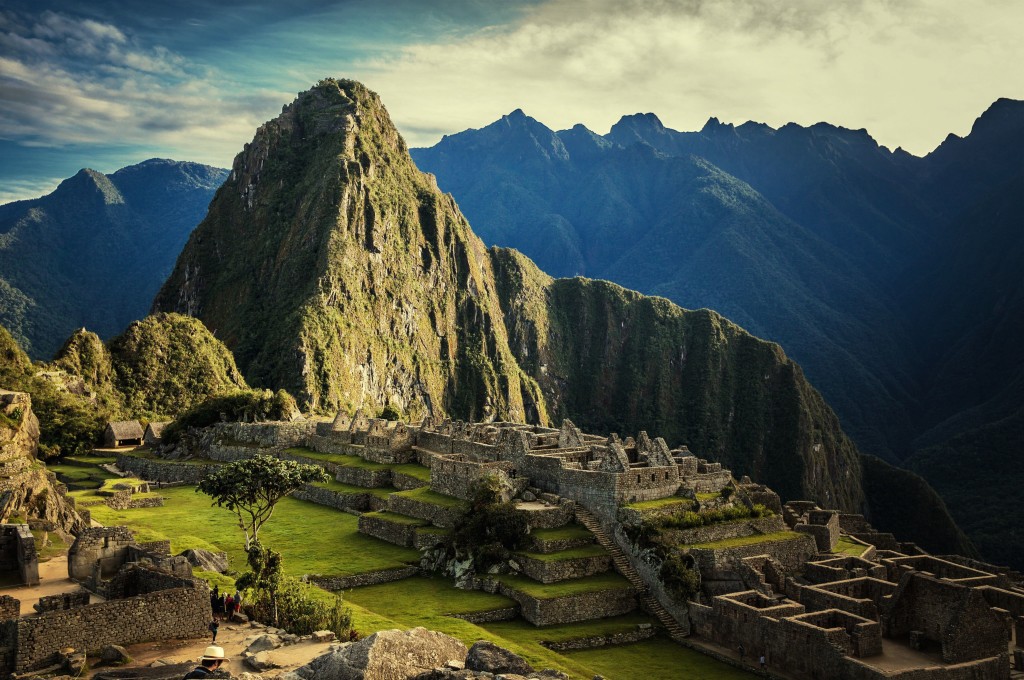 Rewarding Candidates 100 Adventures
If you haven't heard, we are using recruiting for good to create work+life balance by funding and rewarding travel. Do you love to travel and see the world? We love to help you do both. Simply participate in Recruiting for Good, by doing either step to earn any destination;
Submit your resume for a technical position, and complete 120 days of employment.
Refer a family member or friend who is looking for a technical job, (they complete 120 days of employment).
Have Questions or Want to Start Today....
We love to reward any of the following destinations;
Foodie Destinations by Epitourean.com
Athens, Barcelona, Irish Coast, Majorca, Mexico (Puebla), New York, South Africa, Thailand
GAdventures.com
Africa: Botswana, Kenya, Madagascar, Namibia, South Africa, Tanzania, Uganda
Asia: Bali, Bali Lombok Sailing, Beijing to Hong Kong, Cambodia, China, India, India to Nepal, Japan, Maldives, Nepal, Philippines, Sri Lanka, Sumatra, Thailand, Vietnam,
Australia; Brisbane to Cairns, Outback, Surfing Adventure, Sydney to Brisbane, West Australia, New Zealand; North Island, South Island
Central America: Belize, British Virgin Islands, Costa Rica, Cuba, Guatemala, Jamaica, Mexico, Nicaragua, Panama.
Europe: Belgium Beer Tour, France (Burgundy River Cruise, Loire Valley Cycle, Quintessential Burgundy), Croatia to Montenegro, Greece (Sailing Athens to Mykonos, Sailing Mykonos to Santorini), Iceland, Ireland, Italy (Amalfi Coast, Cycling Tuscany, Hiking Tuscany, San Gimiganano, Sicily, Sorrento, Umbria), Romania, Spain (Cycle North Spain, Moorish Spain, Walk Camino Santiago), Trekking Mont Blanc, Turkey.
North Africa/Middle East: Egypt, Israel, Jordan, Morocco.
South America: Argentina (Buenos Aires Iguassu, Mendoza), Bolivia, Brazil (North Brazil, Rio Carnival), Chile (Easter Island, Patagonia), Colombia, Ecuador, Galapagos, Peru (Amazon Riverboat, Machu Picchu).
Silver Lining Travel (Celebrity Cruises)
Alaska Hubbard Glacier, Bermuda New England, Eastern Caribbean, French Riviera, Israel, Italy Greek Isles, Japan Explorer, New Orleans Mardi Gras (2018), New Zealand, Panama Canal, Portugal Azores, South Pacific Cruise, Southern Caribbean, Spain and Canary Islands, Spain France Italy, Tahiti, Western Mediterranean.
We look forward to rewarding you travel to see the world for good...where would you like to travel to next?
December 9, 2015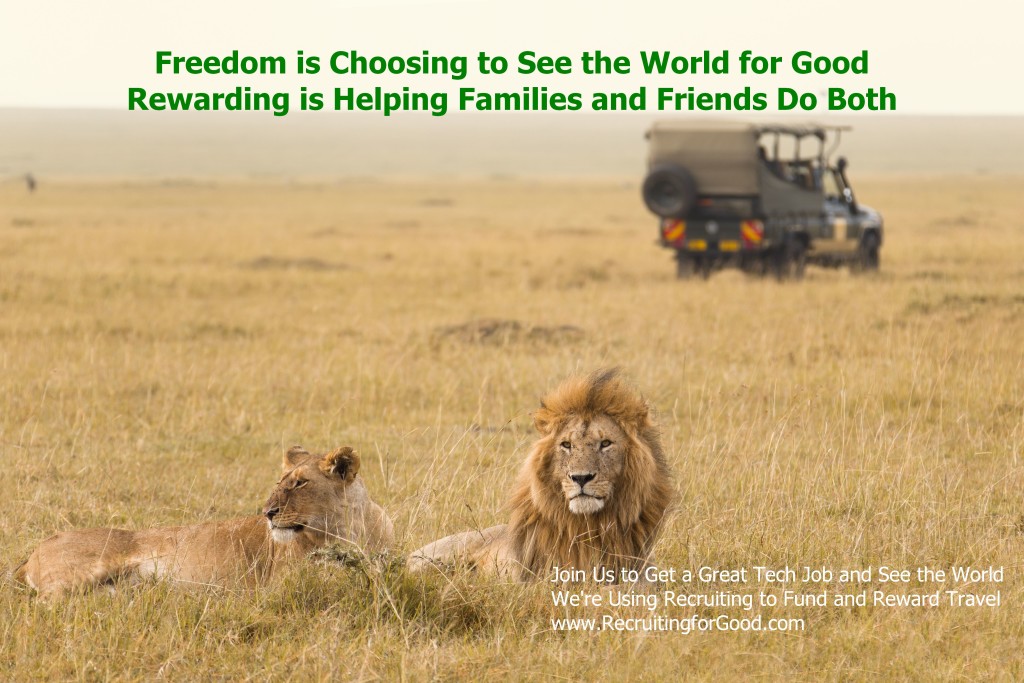 Let's Not Wait Another Year to See the Wonders of Africa....
Yes, we are using recruiting for good to help fund and reward travel. We love finding people great tech jobs, and look forward to rewarding fun travel too. Get a Great Job & See the World.
5 Reasons to Experience a Safari
Go once, and you will come back transformed.
At night, the sky lights up with stars as bright as the sun.
Experience animals in the wild, and you come to understand life.
Everyone, everywhere, every year is worthy to experience this adventure.
When you come back, you will be able to re-tell adventure stories that inspire travel.
How to Earn a Safari for Good?
Submit your resume for a tech job; click here.
We contact you with positions; and find you a great tech job; currently looking for BI developers, C# developers, and technical trainers positions in Los Angeles.
You complete your probation period, and earn your adventure safari reward;
Travel Provided By GAdventures
When it comes to raw, in-your-face wildness, South Africa, Botswana, Zambia, and Zimbabwe are incredible – and from the vantage of our rugged overland adventure vehicle (OAV), even more spectacular. Witness traditional dancing, explore the Okavango Delta with a game walk and bush camping, track rhinos on foot in Zimbabwe's Matobo National Park, and capture the Big Five (with your camera, of course) in South Africa's Kruger National Park. Camping will keep you close to the incomparable scenery. This quick tour isn't simply a taste of Africa; it's a full-course meal – with seconds.
Click here for details of tour (15 days). If you are planning to go to Africa, go for at least 2 weeks. One more way to make a difference; you can gift your trip to a family member or a friend living in the U.S.
Why reward GAdventures? They deliver eco-friendly and sustainable travel destinations; that support the local communities.
We are not associated with GAdventures, we are simply rewarding their trip.
Our fun mission is simple, help everyone see the world for good.
Where would you like to travel to next?