News & Updates

Santa Monica Place
July 25, 2017

Join Westside Beauty Foodie Club
The purpose is to celebrate and reward grandmas, great moms, and grown up daughters (who are past their college, and in the trenches of life, figuring it out) and whose contributions, effort, and sacrifice at work, home, and the community kickass...we thank you for making life more fun, fulfilling, and meaningful....
How to Join Club?
RSVP to attend one of our outrageously fun invite only parties this August; Belgian Chocolates & Melting Chair Massages (bring a plus one, for 10 women only), Breakfast with a Purpose (for 'Coming of Age' kids, limited to 5 moms and 5 kids), Celebrate the Best of Paris on Montana Avenue (Most Fashionable Outfit Wins, Beauty Foodie Shopping Escape Day, make a date or bring a girlfriend or two)....choose your reward Montana Avenue or Santa Monica Place.
Kickass, make a difference, and inspire others to do the same.
Live on the Westside....if you love being creative, it's a big plus.
Most parties are for group of 10 (kids, parents,women)....except Celebrate Best of Paris for 30 beautiful Westside residents (15 couples or 30 women).
Why Create a Beauty Foodie Club?
"It's my way to honor my mom who taught me kickass values, and I continue to appreciate my sisters, and nieces who I adore and love." Carlos, Founder of Recruiting for Good. Giving back by creating meaningful fun experiences through fun purposeful celebrations, I can make a positive and long lasting difference in moms, families, and kids' lives....and together we grow from within.
Want to know more....RSVP Today to enjoy our intimate and invite only parties; email Carlos@WePartyforGood.com
July 22, 2017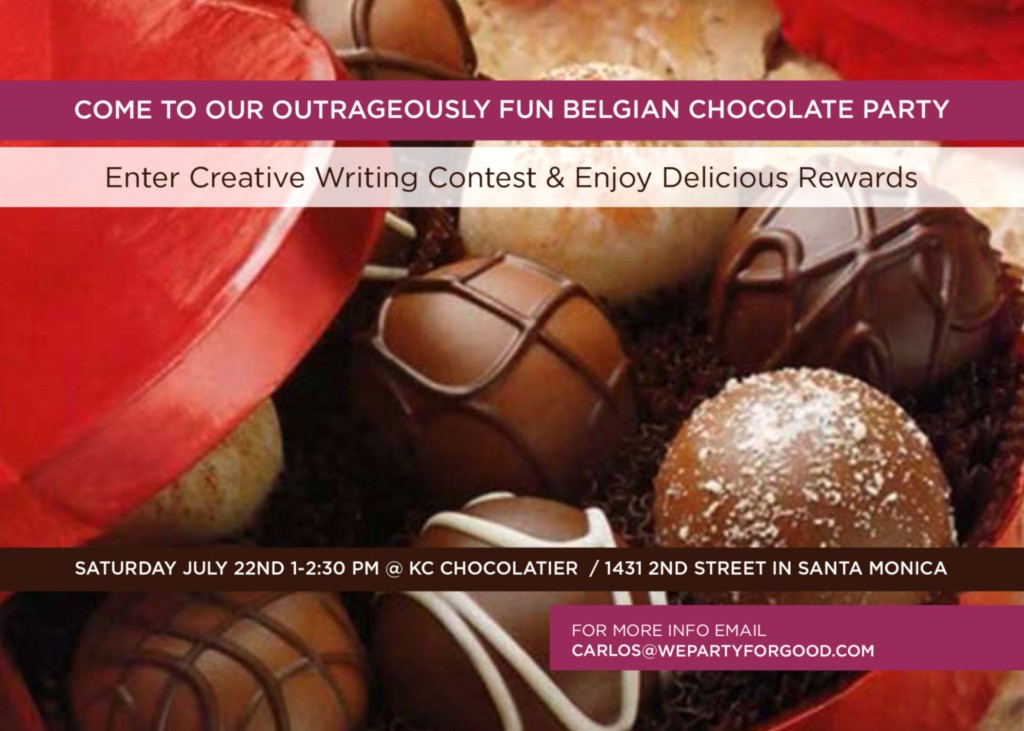 Belgian Chocolates & Creative Writing Party
Writing contest...simply...Choose 1 word that can change the world and tell us why?
The word must not be Love or Gratitude.....participate to enjoy and fill your own chocolate box at the store. And enter to win grand prize, the Ultimate L.A. Escape a Beauty Foodie Shopping Day Experience; Montana Avenue or Santa Monica Place, (Winner Announced August 1).
Men are welcome to participate on behalf of their girlfriends, wives, and daughters (for Ultimate Escape Prize, use your creative talent, to show how her much you care).....the chocolates are for you and anyone you like to share it with.
Come use your creative talent to change the world....and enjoy the best Belgian Chocolates
Kids under 18, must be accompanied by parents to participate in Chocolate Party for Good.....
To learn more about all our Summer Parties....click here www.WePartyforGood.com
July 14, 2017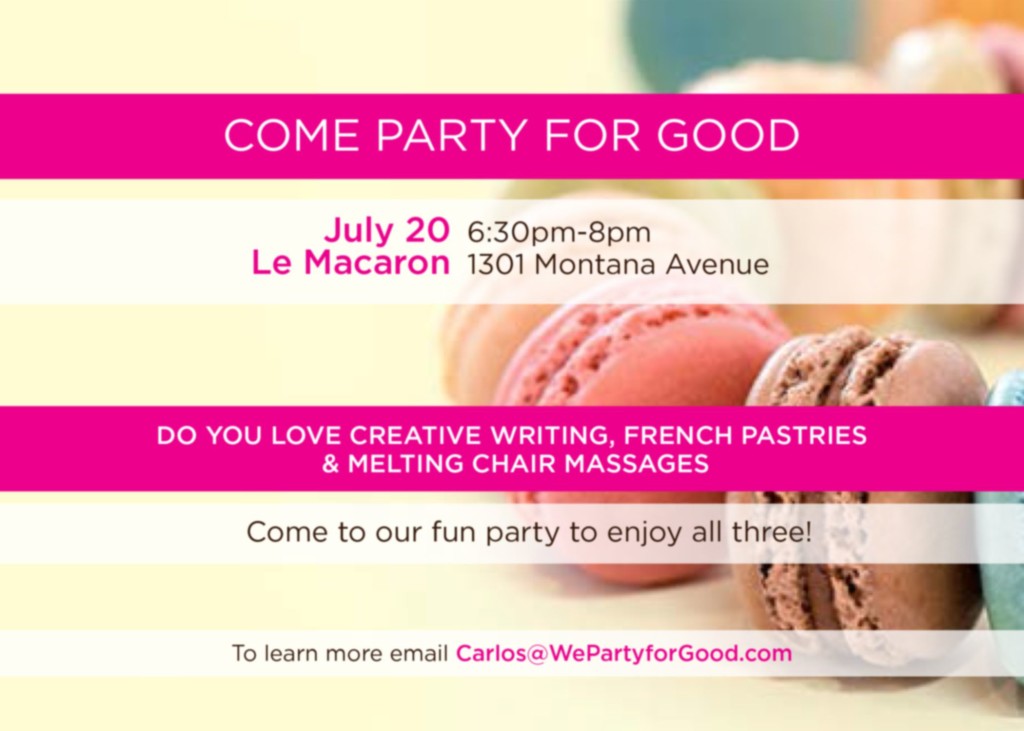 We're Celebrating Everyone's Artistic Spirit On Montana Avenue's Art Walk@Le Macaron
Welcoming Creative Kids, Moms & Dads Who Love to Experience Freedom thru Self Expression
Participate in Choose 1 Word to Change the World Writing Contest to Earn Beauty Foodie Awards at Fun Party
And Qualify to Enter & Win Grand Prize, Beauty Foodie Shopping Day Experience in Santa Monica (Montana Avenue, or Santa Monica Place) Winner Announced on Aug 1, 2017 (We're taking submissions from kids accompanied by parents just at party).
For More Information, Contact Carlos@WePartyforGood.com