News & Updates

find a kickass job
September 21, 2017

Using Recruiting to Fund US Nonprofits
This holiday season, let's make a difference together...every referred position (company sends Accounting, Engineering, Finance, IT, Marketing, and Sales fulltime open jobs), that we fill between Thanksgiving and January 1st, 2018 and earn a placement fee; Recruiting for Good will donate 50% of proceeds to local nonprofits.
Want to Help Your Favorite Nonprofit?
Simply introduce us to the executive or manager hiring professionals carlos@recruitingforgood.com
If you are an executive at a company, simply contact us; we love to help support your favorite cause.
Who Do We Help Fund?
U.S. based nonprofits, schools, and churches (participate to earn your donations, or have your community help you).
Why?
Since 1998, we have been fortunate to work with great companies, and found work fulfilling by finding professionals kickass jobs to enjoy life and party for good. We love to collaborate and use our talent to help nonprofits impact the community.
June 14, 2017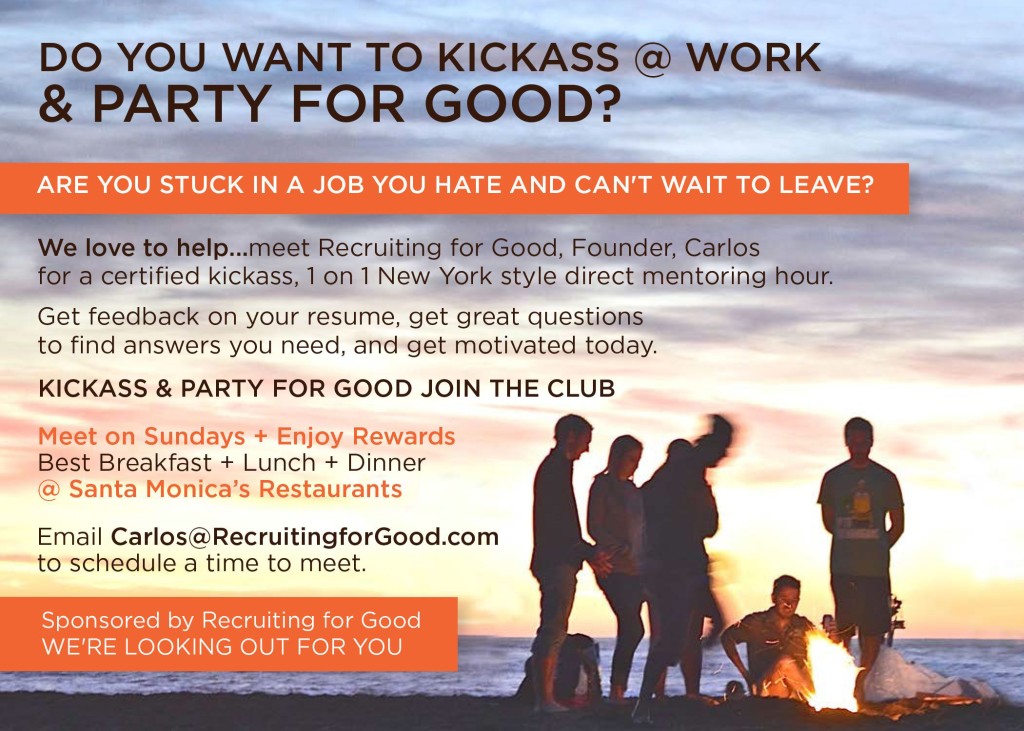 Come Find a Job You Love & Celebrate Your Freedom
We're Making Social Service Certified Old School Fresh
No apps, no SKYPE, just real kickass connections...join us to party for good and meet in person to get 1 on 1 mentoring with Recruiting for Good founder, Carlos ... to jump-start and reignite your career and job search. Come meet for 1 kickass hour and enjoy Santa Monica's best dining rewards.
We're using recruiting placements to sponsor our personal mentoring service, and dining rewards.
Our kickass methodology will...Bring you closer to your truth, find out why you are stuck in a job you hate, or haven't found a kickass job you love....our refreshingly genuine New York style is a soft kick in the behind, compassionate, direct, and truthful. 
If you are looking for yes men, join the White House, or need hugs and affirmations of how wonderful you think you are our kickass mentoring service is certainly not for you.
Requirement...must be currently employed or employable, and be open to listening and taking direction.
Our Kickass Wake Up Call Will...
-Connect you to your context and new found freedom
-Help clearly define your obstacles, strengths, and values 
-Learn how to write a killer resume that attracts employers
-Learn how to qualify your current employment, a job prospect, and recruiter
-Own your fun job search responsibility and prepare properly for job interviews
-Strategize your job search, and teach you mindful techniques to focus on success!
Email Carlos@recruitingforgood.com to make an appointment and meet at a Santa Monica restaurant on Sundays and enjoy foodie party rewards...start today to find your next kickass job & party for good.