News & Updates

beauty foodie shopping
August 10, 2017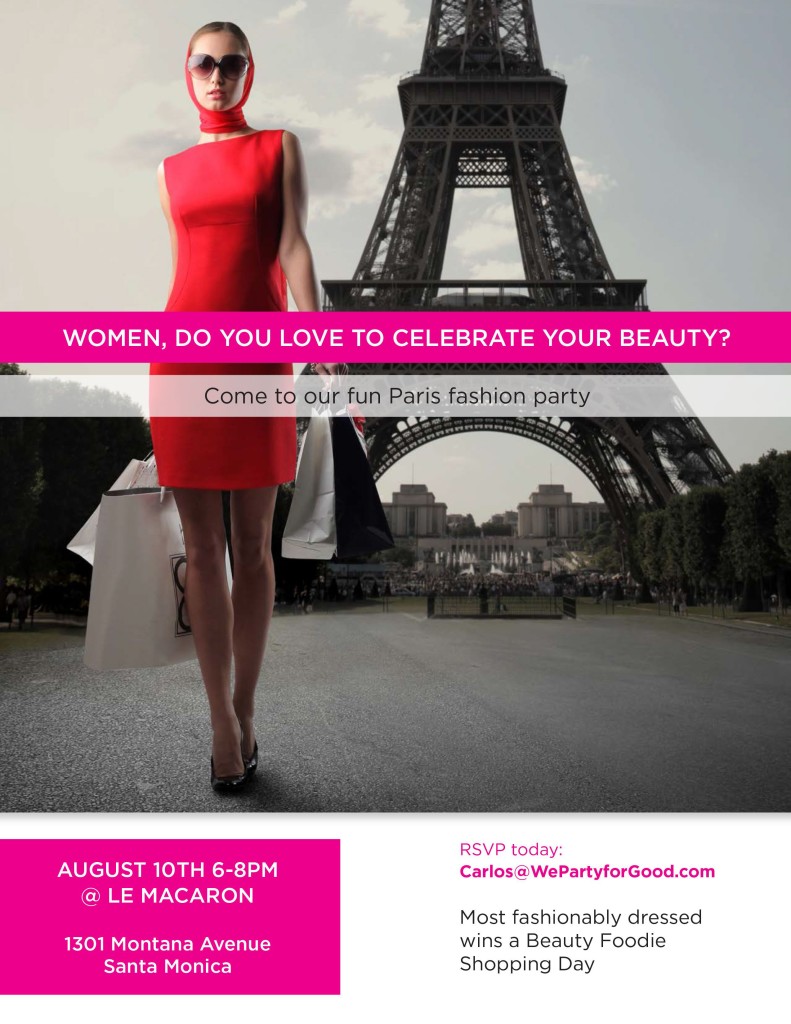 Attend Last Beauty Foodie Fashion Party
The Last Beauty Foodie Fashion Party is today, Thursday August 10th at 6-8 pm at Le Macaron on Montana Avenue. Bring your girlfriends, best friends, relatives, and significant others.
3 Great Reasons to Come
Recruiting for Good is sponsoring the Fashion Party for Good.....just come celebrate life and have fun.
Enter drawing for special invite to Sponsored VIP Party Belgian Chocolates and Melting Chair Massages.
The most fashionably dressed woman will win our Fun Signature Beauty Foodie Shopping Experience.
Surprises at our celebration will bring lasting joy and fun into your life.....meet a new like minded friend.
If you are participating in RSVP for Good, we will be donating $25 on your behalf to your favorite charity and social cause (Kristen Hetzel's World Championship sponsorship). Just RSVP and attend party to earn donation.
Come meet and support Santa Monica resident, and ranked #7 in the world, Team USA Duathlete, Kristen Hetzel.
Lastly, Want to Learn Conversational French?
Recruiting for Good is sponsoring small group French classes on Sundays starting in September, come to our Beauty Foodie Fashion Party to secure a spot in our fun community event, and make a difference in your life.
Want more information? Email Carlos@WePartyforGood.com
May 15, 2014
Imagine what your life would be like if you could reward your family, friends, employees, co-workers, customers, business partners, LinkedIn connections, Facebook friends, twitter and re-tweeters, bloggers, Google Plussers, neighbors, barristas, cashiers at Ralphs, your barber, your maid, your nanny, the guy who washes your car, the girl that does your mani, the guy who gives you a massage, a person in line waiting to order at Starbucks, the girl across the hall who greets you every morning, your ex-boyfriend, your ex-wife, your kids, your girlfriend, your husband, your kid's teacher, the cop who didn't write you a ticket, your therapist, your lover, your mother in law, your high school sweetheart, yourself, someone who lives in another country, your old neighbor, your cat sitter, the person you admire most, your boss, your doctor....everyone loves to be rewarded vacations.
We are using recruiting for good collaboratively to reward everyone vacations. Need an excuse to get involved? Do it for your favorite cause, school, or alma mater. Introduce us to an executive, we will reward $2,500 to your favorite cause, and reward you a vacation anywhere in the world for you to enjoy, share, or reward anyone in the world. Imagine if everyone enjoyed vacations for good.
Every Occasion is Perfect for Rewarding Vacations for birthdays, anniversaries, promotions, thank you for being a loyal customer, I want to help you see the world, I want to help you change the world, honeymoons, getting over break up, girls' weekend, boys to men weekends, forgotten Mother's Day, I Am Sorry, I love you, will you marry me, thank you for being a great employee, thank you for listening, escape with me to paradise, I miss you, I want you, you want me, I want to spend more time with you, go out with me on a date, leave the kids at home with nana, and send nana to Jamaica for taking care of the kids.
Here are some fun vacation ideas KickAssforGood.com rewarding men adventures, WeShopforGood.com rewarding women Beauty Foodie Shopping Retreats, or WeTravelforGood.com rewarding everyone vacations
Whatever vacation you desire is possible, why? Because, we are on a mission to reward everyone vacations for good.
Contact me carlos@recruitingforgood.com, I am ready to serve you today. Thank you for reading this blog, making you smile, laugh, and inspire you today.
If you love it share it with a friend, with your help we change the world, whenever everyone enjoys life's greatest rewards Beauty Foodie Shopping Vacations for Good..