June 17, 2017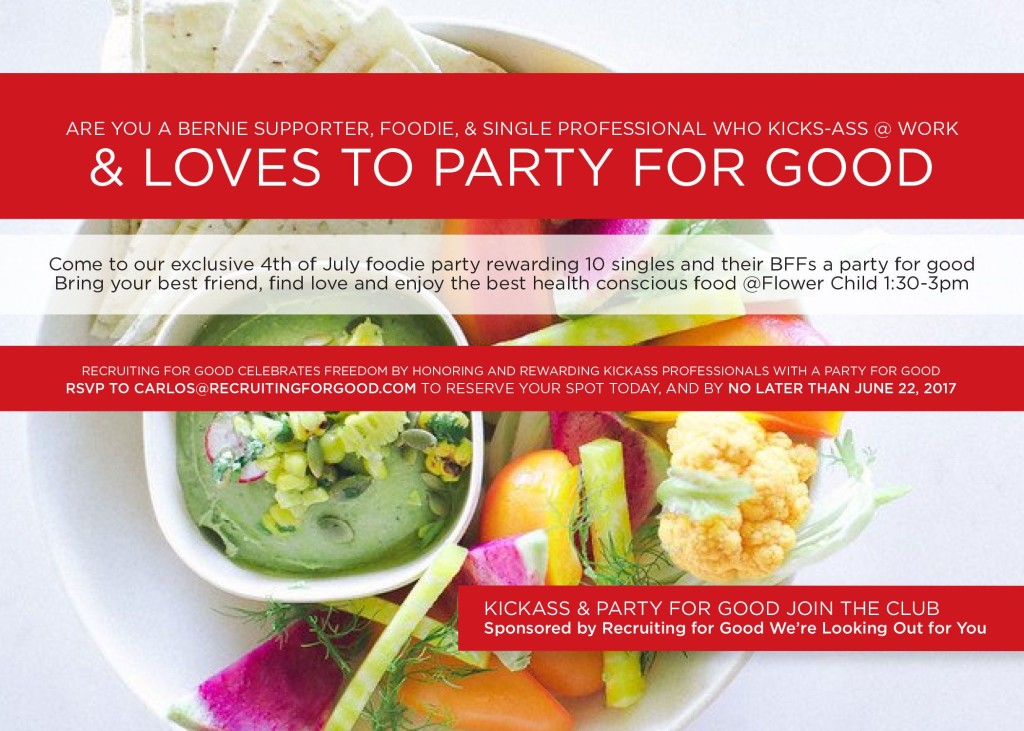 Rewarding Party for Single Bernie Foodie Lovers
Do you live in L.A., are you single, do you kickass@work, supported Bernie in the election, and love health conscious food....Recruiting for Good is sponsoring a fun foodie 4th of July party for professionals just like you. That's right we are picking up the check for 10 Foodies for Good and their BFF's for a special single's event at Flower Child in Santa Monica from 130-300 pm. We only have 10 spots open, and you need RSVP by no later that June 22, 2017 to reserve your spot.
We are paying for everyone's lunch....why? We love to celebrate professionals who kickass@work, you are the unsung heroes who get "IT" done, the leaders, the awesome team workers, you make work fun and rewarding....thank you....you are the change makers...you are the 10% who tip the balance for good.
How to RSVP? Email Carlos@RecruitingforGood.com, must be 21 years old, live in L.A., be a US Citizen or US Resident, and happily employed, no alcohol will be served...if you want to get drunk...go elsewhere, if you are looking to meet like minded friends...this party is for you.
No walk-ins will be rewarded, if you are not on the RSVP list, you will not earn a free lunch reward. Come celebrate your freedom on the 4th of July and Party for Good.