June 7, 2017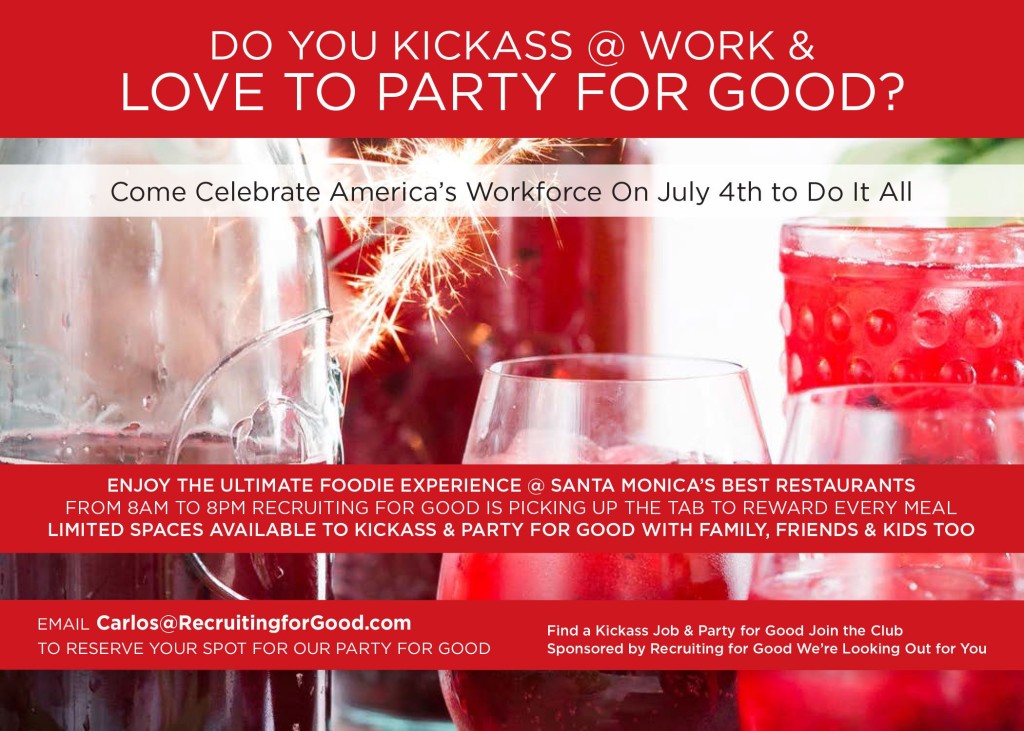 Highlight.. We are Celebrating America's Kickass Workers...
Come to our invite only ultimate foodie Party for Good event on the 4th of July. Enjoy Santa Monica's best restaurants on us (Recruiting for Good). Each invite will be good for two people (adults, or adult and child), some restaurants are adult only, some will be kid friendly. We are creating a community for like minded professionals who love to kickass & party for good....join the club.
How Do I Earn An Invite and Enjoy 4th of July Party for Good  
Must be a US Citizen or US Resident employed at a company in Los Angeles for at least 6 months or more.
We are looking to reward workers who kickass (have you been promoted in the last 6 months, have achieved something significant that made the company better, are you a manager and lead a team, are you a teacher, cop, fireman, paramedic, IT Professional, barrista, waiter, or does your boss think the world of you). We want to know you...and reward you.
Email Carlos@RecruitingforGood.com, tell me how you kickass at work, please submit a professional reference for someone who can attest to your awesomeness.
After you receive invite to Party for Good on 4th of July, you can choose any restaurant listed on our site and time when meal will be rewarded; please be on time, (every 2 hours we will be at a different dining location). One rewarded dining location per person. There will be limited rewards per dining establishment. We will list the restaurants and times in 1 week.
Have fun, tell a friend, we are celebrating America's kickass workers on the 4th of July to Party for Good!
Have Questions? Email Carlos@KickassforGood.com