My Qualifications to Be a Job Mentor
"You're life is the total sum of your experiences"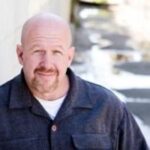 Who I Thought I Was
I was born with a rare genetic condition that created obstacles for learning and development. I was severely dyslexic, and started speaking late in life.
By the time, I was 12 years old my family had moved to 3 distinctive different countries, and every time, I had to learn a new language, make new friends, and adjust to new cultural norms. All the while in my house my father was angry, depressed, and disappointed; and directed his feelings toward me.
When I was growing up, I was frustrated that I thought faster, then I could speak, and I threw tantrums, I learned that anger was an acceptable way to express myself from my father. And I blamed myself for the way, I was born. I learned how to shame myself, and it made it worse.
Something Wonderful Happened
I found my freedom at work....when I was 15, I found joy and fun in service; working as bag boy at Gelson's Markets, I overcame my speech impediment, by flirting and talking to customers, I was social and found my freedom to be me. And my confidence went way up. Every summer, when I wasn't in school, I went to Israel to work on a Kibbutz.
I barely graduated high school with a B- average, and was tested by a psychologist who told me and my mother I did not have the capacity to learn; and should not take on college. My mom didn't listen, I was fortunate to join a beta project for dyslexic students at CSUN, with note takers, note readers, and extra time for tests; I flourished, finished my Bachelors with 3.4 GPA, and pursued grad school.
While in college, I worked as a Spanish teacher at a pre-school, and teacher assistant at Napa Elementary. When I graduated college, I worked for one year at Kmart as a manager and quit, and returned to teaching in a Junior High and Special Ed school. Then, I pursued my Master's Degree in Marriage and Family Counseling at night, during the day I worked fulltime at an accounting firm, where I met recruiter, Alan Gregor; he changed my life, inspiring me to be a recruiter. I quit grad school to find a job in recruiting in 1995.
Interviewed at over 30 agencies, who said no, and finally found Mini-Systems who said yes, a year later, I was fired, and went to work for Media One, one of my clients, in the hey day of Internet Service Providers.
Freedom to Be Me
In the business world...
I worked for a couple of Recruiting Agencies, and as an in-house recruiter, before starting my own agency in 1998. I fulfilled my dream in recruiting, when Virgin Galactic contacted me to fill their #1 software development position last year; which I did in less than 1 month.
I am a maverick in business, believing that relationship is everything, not the pursuit of money. I have forgone fees to help people great jobs. Successfully worked as a recruiter, through the worst work recession in our time (even started a venture SaveUSJobs.org, and employed 3 people).
With recruiting, I have transformed my life, and my community.
Choosing Freedom, Meaning, Purpose
I lost my story...and found my true self...Nine years ago, I made a conscious choice to change the course of my life; I wanted it to be more meaningful. And although I had completed, my bucket list for travel by the time I was 40 years old, it wasn't enough. I began reading a book a week, writing every day for 1 hour every morning for 3 years. I took Landmark education classes. I joined MDI, a nonprofit, took on leadership roles, whose mission is to empower men to be leaders in life....and took advantage of every course, training, and transformational weekend they offered (even doing the training 2 or 3 times). I learned to trust, serve, and lead men. Found my context.
Some Accomplishments, Great Life Lessons, & Lots of Fun
-Eight years ago, I collaborated with a group of kids, and created a T-shirt to raise money for a Veteran's event honoring men, women, and their families. I donated over 1,000 t-shirts, that are still being worn today.
-Seven years ago, I began mentoring Mary, a top golf pro, who is soon coming out with a high purpose children's book.
-Six years ago, I sponsored a band, and they opened for the Doors on Sunset Blvd, at the Roxy.
-Five years ago, I helped brand a Cat rescue, Kitt Crusaders, and did a fundraiser.
-Over the course of the last 3 years, I volunteered at a local high school co-created a creative writing program, and reward. And created, led, and delivered fun community events to inspire creative writing.
-Over the course of the last 16 years, I have founded, risked, and failed in 3 different ventures (SaveUSJobs.org, TalentGem.com, and WeTravelforGood.com), and learned many lessons along the way.
-As recently as July 4th, 2017, I created fun fulfilling events that touched people's lives; rewarding people who kickass.
-I am currently, mentoring a tough 73 year old woman, who wants to find a purposeful job. And a 13 year creative boy.
-On July 9th, I am launching Kickass & Party for Good, a free 1 on 1 job mentoring service in Santa Monica.
Today, my life's purpose and value is to serve others, and allow them to experience life fully, find joy in work….and party for good.
I am uniquely qualified to care, listen, and understand. I have been there, and done that.
I am passionately committed, constantly learning, grateful, and open to new possibilities.